The cheese-wine pairings certainly cannot be improvised, even if it is not possible to have a universal code of the same and to know in an objective and pleasant way for everyone which they marry best. However, there are some basic indications to follow in order to create harmonious combinations, able to enhance the two flavors.
Wine and cheeses: what to know
Both wines and cheeses present numerous variations, for this reason, in every food and wine pairing, there are important aspects to consider. The main ones concern the cheese paste, how compact it is and its fatness. The intensity of the tendency to sweetness and flavor, the succulence, the aroma, the taste-olfactory persistence are also important. Experimentation in the field of these combinations of cheeses and wines, especially if they are prized, is the result of a study that continues constantly, always looking for better proposals. Starting from these characteristics of cheeses, we can indicate what are the basics of the best combinations with wines.
Wine and fresh and soft cheeses
Let's start with fresh, creamy cheeses with delicate flavors, perfect to be cooked on the grill. Among these we can mention Robiola, Crescente, Mozzarella and Caciotta, fat and with a high sweet tendency. They pair nicely with delicate wines, usually white, fresh and tasty. To give some examples, the Soave, Lugana, Falanghina and Verdicchio are excellent, but also the most decisive sparkling wines from Franciacorta.
Wine and fresh and soft aged cheeses
Let's now go to the cheeses that have the same soft consistency as those mentioned above, but which are seasoned and therefore characterized by a well-defined flavor. The most seasoned are Taleggio, Bel Paese and Stracchino, tending to sweet and high fat. Their taste is perfectly suited to soft and fragrant wines, usually of the more structured whites, rosés or even light reds, in the cases where the cheese is more seasoned. To give some examples we can name Chardonnay, Rosato del Salento, Chiaretto del Garda and Bardolino.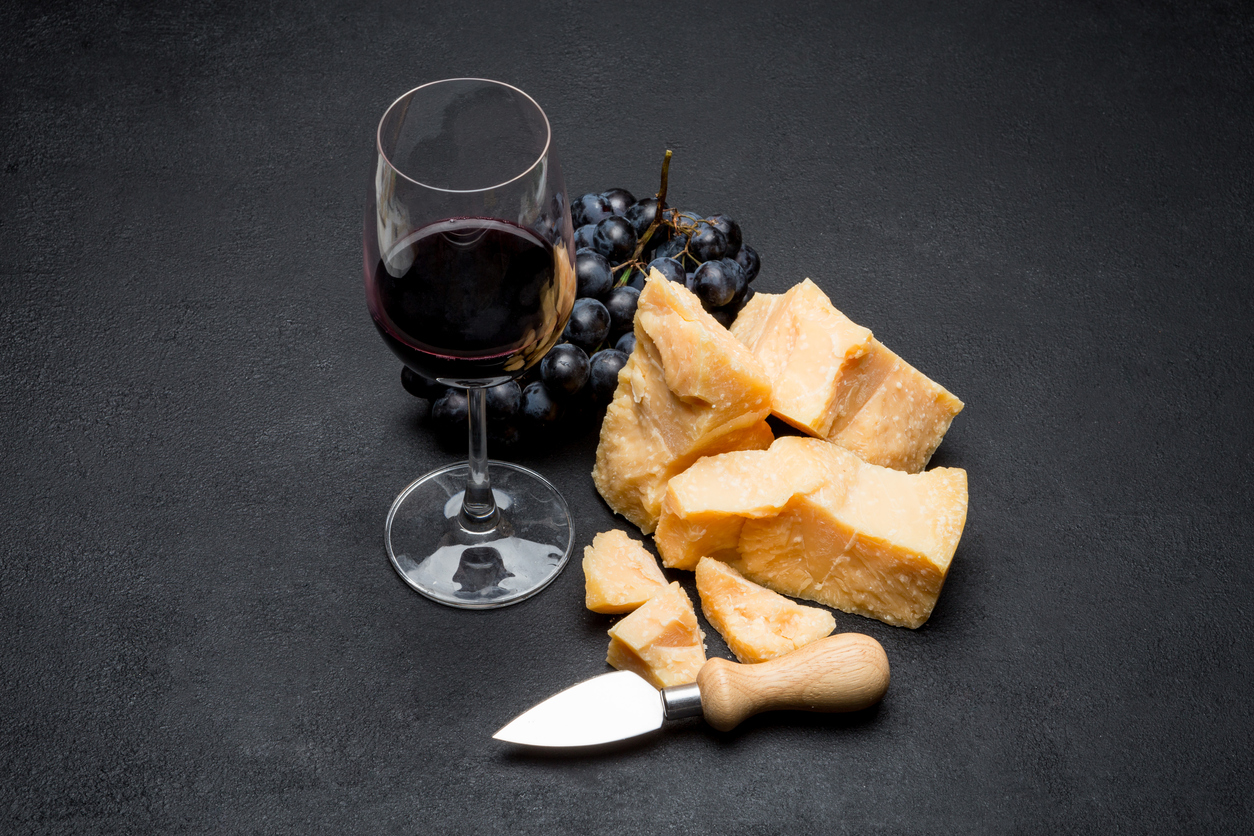 Wine and hard and raw cheeses
The cheeses we are talking about now tend to be sweet, tasty and succulent during chewing. These are different types, with varying degrees of seasoning, from the more delicate ones such as Bra, Caciocavallo and Pecorino Siciliano, to the Fiore Sardo, not very seasoned, to finish with the longer seasonings of Provolone, Cheddar, Asiago, from Fontina, all with decidedly stronger flavors.
To these cheeses we can combine well-structured whites and soft and balanced reds, not too alcoholic. To name a few, the combinations with Dolcetto, Chardonnay in Barrique, Grignolino or Bardolino are very good. By increasing the maturation of the cheese, the palate goes in search of full-bodied reds such as Morellino di Scansano, Merlot, Barbera, Grave del Friuli, Chianti.
Wine and hard cheeses, cooked and semi-cooked, not very mature
This type of cheese brings together the most savory and succulent, endowed with aromatic touches and long taste-olfactory persistence. The first that come to mind are Gruviera, Parmigiano Reggiano, Bitto della Valtellina, Emmenthal. The most full-bodied red wines are those that most enhance the flavors of these cheeses, including Merlot, Pinot Noir, Sassella, Valpolicella, Inferno, Bonarda.
Wine and hard cheeses, cooked and semi-cooked, seasoned
Very tasty cheeses, some of which are also spicy, with a great aroma, high succulence and persistence of taste. We can mention the Grana Padano, the Aged Parmigiano Reggiano or the Aged Montasio, rather than the various Aged Pecorino. Given the strong flavor, they combine with very structured and aged reds such as Brunello di Montalcino, Barbera in Barrique, Sfurzat, Chianti Classico, Barbaresco, Refosco. For those spicier cheeses, the best combination is certainly the one with Cannonau di Sardegna, Amarone and Malvasia di Bosa.
Blue and blue cheeses and goats' wine and cheeses
Bleu are those tasty cheeses – known as blue cheeses – characterized by fatness and aromaticity that tends to bitter, such as Gorgonzola, Stilton and Roquefort, which are combined with wines with a higher alcohol content, especially sweet whites and reds soft, such as Amarone, Marsala, Passito di Pantelleria, Porto, Lo sherry, Moscato passito, Muffato della Sala.
As far as goats are concerned, fresh ones are more acidic and succulent and the combination requires better fresh and aromatic white wines; if the seasoning rises, on the other hand, the flavor and complexity also increase and therefore mature white and full-bodied red wines are served.
Do you want to know more about how to pair our wines?
Enter your details and send us your request immediately